"Teams that systemically address inclusion, and regularly collect data to support continuous improvement, are the stand-out winners." (Carter & Johnson 2022)
Teamx Program
Deploy Inclusion, Drive Performance.
Team Leaders
Teamx is a data-driven service that helps teams identify and deploy practices customized to their people and preferences, in order to improve inclusion and drive performance.
Senior Executives
Teamx helps committed executives benchmark, monitor and report on inclusion, supported by longitudinal data collection and analysis, so they can improve outcomes.
How it Works
Teamx helps teams take concrete actions based on their specific needs, in order to deploy, monitor and continuously improve inclusion and drive performance.
Trying Teamx is quick, and easy. All it requires is 1.5 hours of pre-work by each team member (using the Biodex tool and Inclusive Practices Recommender, and completing short modules on Inclusion by Design), a 2 hr facilitated workshop for each team (to complete their customized Inclusive Working Agreement and develop a concrete plan for continuous improvement), and 15-20 minutes each planning cycle (bi-weekly or monthly) for self-assessing progress. Within 3 months, teams should see improved outcomes and have adopted inclusive practices that they can sustain on their own.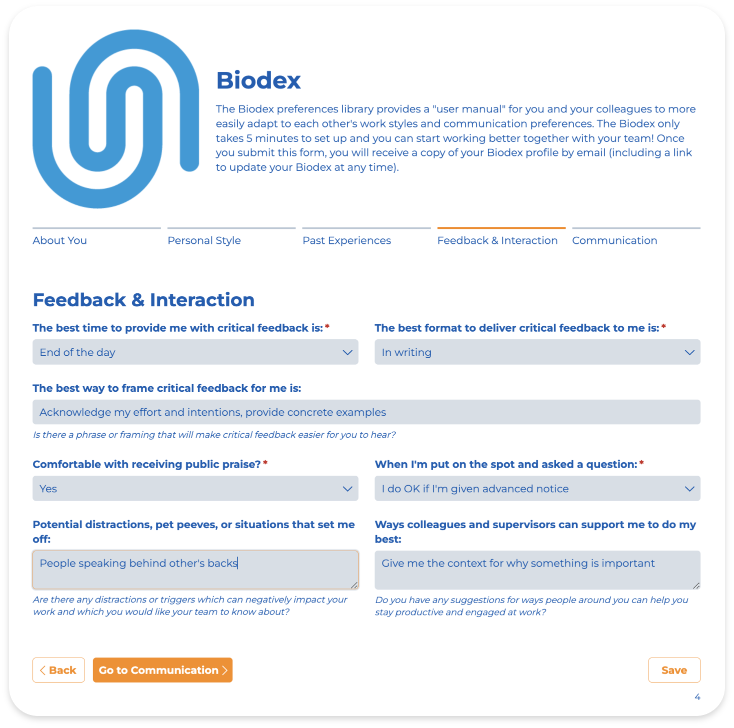 Try Biodex for Free
The Biodex preferences library provides a "user manual" for you and your colleagues to more easily adapt to each other's work styles and communication preferences. The Biodex is free to use, only takes 5 minutes to set up, and you can start working better together with your team!
About Ultranauts
Founded in 2013 by two MIT engineers, Ultranauts Inc has built a successful data and software quality engineering firm powered by one of the most diverse groups in business. 75% of Ultranauts are Autistic, we have more females than males, 35% of us identify as LGBTQ+, 20% of our managers are Black, and as a team, we over index on severe anxiety and PTSD. Typical management practices (and DEI activities) were not effective for an organization as diverse as ours, so we had to completely reimagine and redesign our work systems and practices.
One of the practices that emerged at Ultranauts is Inclusive Agile, a methodology for implementing Agile in a way that increases participation, protects psychological safety, reduces burnout risk and improves productivity – not only for neurodivergent team members but for everyone. Based on Inclusive Agile, Ultranauts has developed a new program, Teamx to help any team (not only Agile engineering teams) deploy, monitor and improve inclusive practices within their own team to drive performance.